Seeking Alpha
Permabear
Feb. 6, 2017 4:19 PM ET
Summary
Fashion model Sarah Frigo was hired at Medallion Financial Investor Relations.
While at the company, Frigo posted numerous bullish MFIN articles and comments under a pseudonym.
Potential securities fraud violation, management credibility in serious question.
Medallion loan book continues to deteriorate, Medallion Bank has breached its FDIC 15% leverage ratio.
If you are new to Medallion Financial (NASDAQ:MFIN), please take a look at my first two articles:
This is the full story of MFIN's Investor Relations fiasco, involving a young, beautiful New York City fashion model with no finance experience, who quickly ascended to "head of Investor Relations" and spread highly promotional misinformation about MFIN, its stock price and future prospects, all while operating in the shadows – under a pseudonym.
The story was covered by Debtwire on January 27, 2017 in a piece entitled Fashion model turned cab finance company promoter takes Medallion Financial investors for a ride (which I suggest you read before continuing).
In this article, I will provide all the supporting material I obtained since November 2016, consisting of screenshots sourced from LinkedIn, Instagram, Twitter, Facebook, Huffington Post, and Medallion Financial's official website. None of the images were altered, but I did highlight, underline and provide commentary on several of the images for ease of reference. To the extent possible, I have archived webpages from which I have taken screenshots, these links are included below. Strap in! It's going to be a bumpy ride.
Let's start at the beginning.
February 2016
Sarah Rabby Frigo is hired at Medallion Financial Investor Relations. According to Frigo's LinkedIn she was, "appointed to the head of Investor Relations."
LinkedIn also says she is a "freelance contributor to the Huffington Post" after appealing directly to Arianna Huffington.
Frigo appears to have had no relevant experience in finance, investor relations or journalism. The bulk of her previous working experience (2008 – February 2016) was as a fashion model.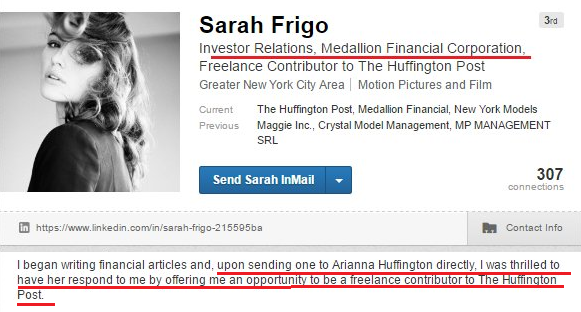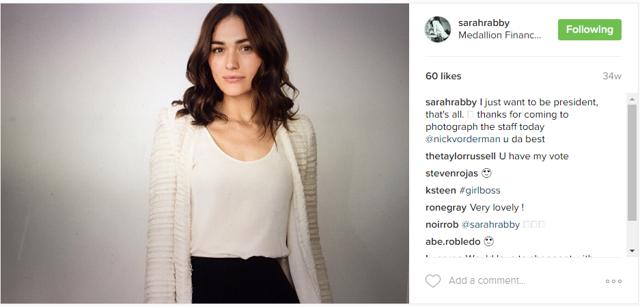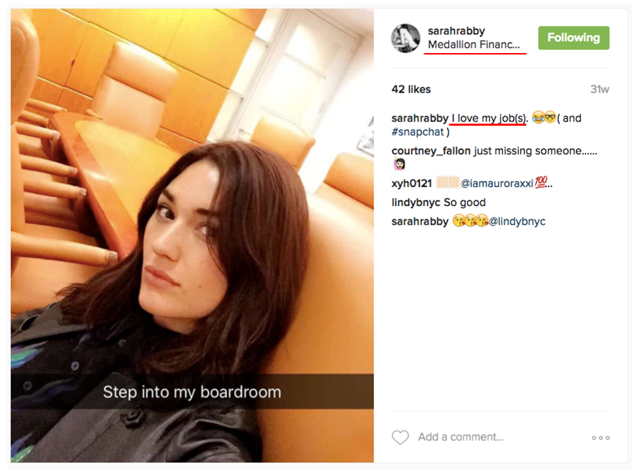 Introducing: Jayme Stanley
Below is an image from Sarah Frigo's Instagram of her and her brother Craig.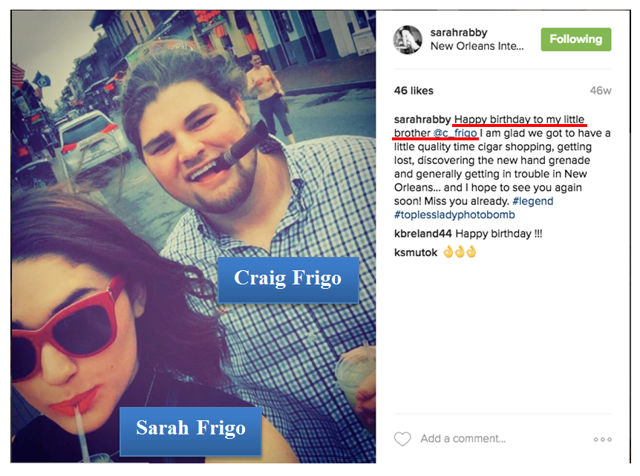 According to Facebook, Craig is in a relationship with Jayme Stanley. (Stay with me here… it will all make sense very soon.)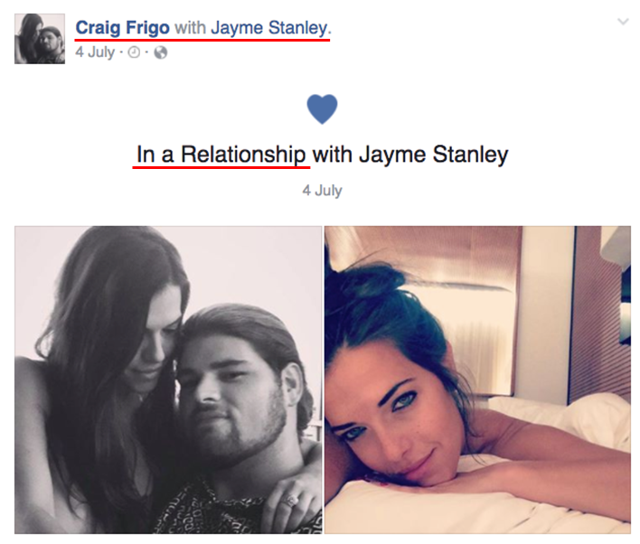 Below is an image of both Jayme Stanley (left) and Sarah Frigo (right) at a nightclub in 2015.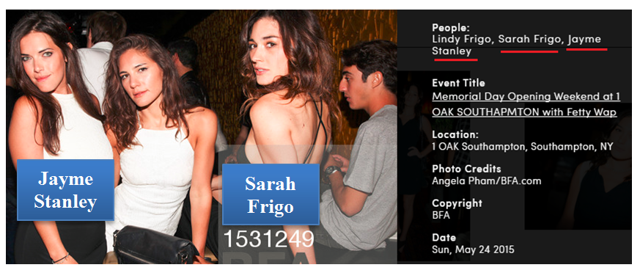 Okay, a quick recap – as of February 2016:
Sarah Frigo, a fashion model with no relevant finance experience, has been appointed the head of Investor Relations at MFIN
Sarah Frigo has a direct familial connection to a woman named Jayme Stanley
May 2016
Huffington Post
During the week of May 1, 2016, Sarah Frigo posted on her Instagram a screenshot of her email conversation with Arianna Huffington.
The email subject line reads, "(Article)Safety In Subsidiaries: Untangling the web of perception surrounding the taxi medallion industry, Uber, TAXI stock and Medallion Financial Corporation." Note: MFIN's ticker was TAXI prior to May 11, 2016.
Note Sarah Frigo's reference to using her "pen-name email" below.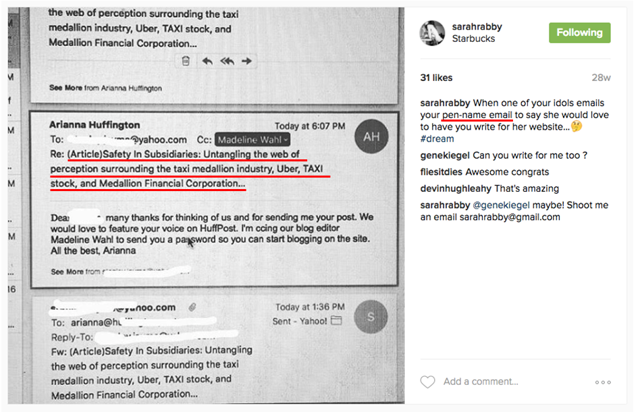 Enlarging the screenshot of the email from Arianna Huffington (below), the pen-name email address that Sarah Frigo appears to be using is stanleyjayme@yahoo.com.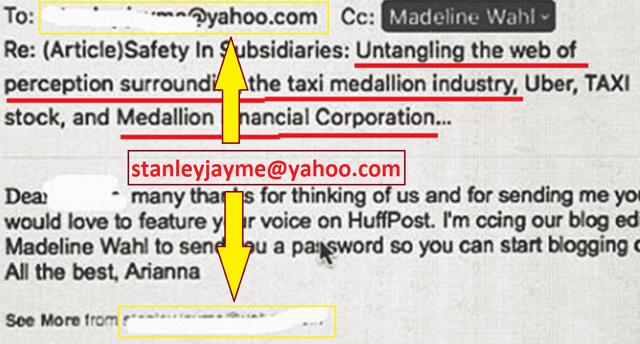 The Huffington Post article was also bylined by the "pen-name," Jayme Stanley. Certainly a bizarre choice for a pseudonym!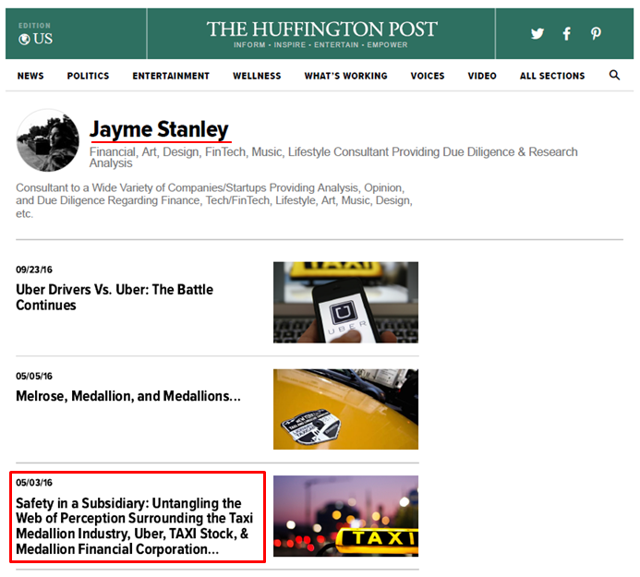 Enlarging the photo displayed with Jayme Stanley's profile on Huffington Post reveals it is not the actual Jayme Stanley, but Sarah Frigo.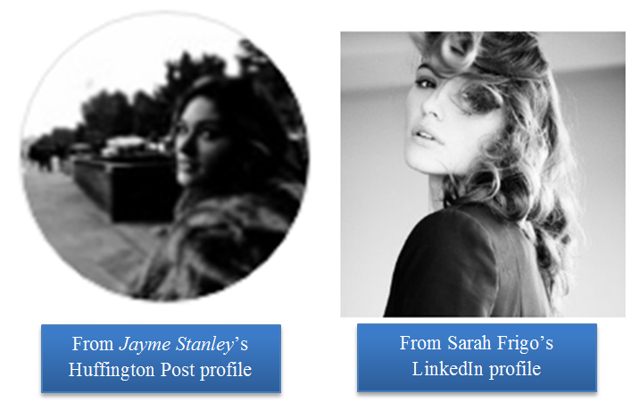 The first Huffington Post article published under the pen-name Jayme Stanley was issued on May 3, 2016. A second article was published just two days later on May 5th. Both articles are highly promotional of MFIN and contain statements such as claiming Medallion Bank (banking subsidiary of Medallion Financial) is "worth double the market capital [of the parent] today."
A full three months later on August 2, 2016, Andrew Murstein, President of Medallion Financial, presenting at the Keefe, Bruyette & Woods Community Bank Investor Conference in New York City said, "we think the bank alone could be worth double our total market cap today." This statement by Andrew Murstein is essentially word-for-word what Sarah Frigo, head of MFIN Investor Relations, wrote in the Huffington Post three months earlier under a fake name!
MFIN stock closed at $7.34 on May 3, 2016, when "Jayme Stanley" published her first pro-MFIN article. MFIN stock recently closed at $2.29 on February 3, 2017 (a 69% decline from May 3rd).
Note: In January 2017, after this story was broken by Debtwire, the author's name on the Huffington Post articles was changed from Jayme Stanley to Sarah Frigo. The articles were subsequently deleted. That said, the articles have been permanently archived online:
Note in the image below, the site link refers to author Jayme Stanley, whereas the author's name on the page is now Sarah Frigo.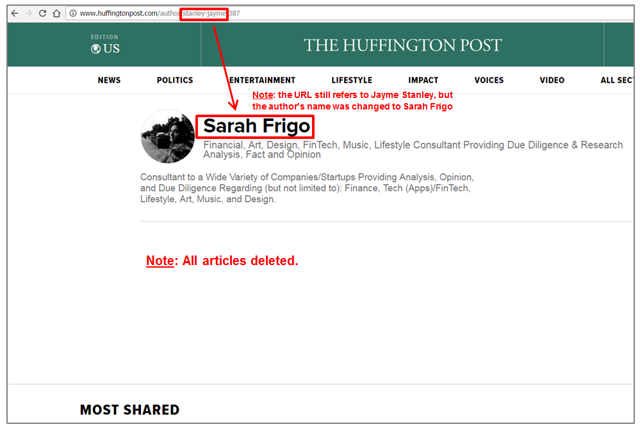 Frigo tweeted the two articles back to back on May 6th, referring to the Safety in a Subsidiary article (authored by "Jayme Stanley") as "my first article for The Huffington Post…"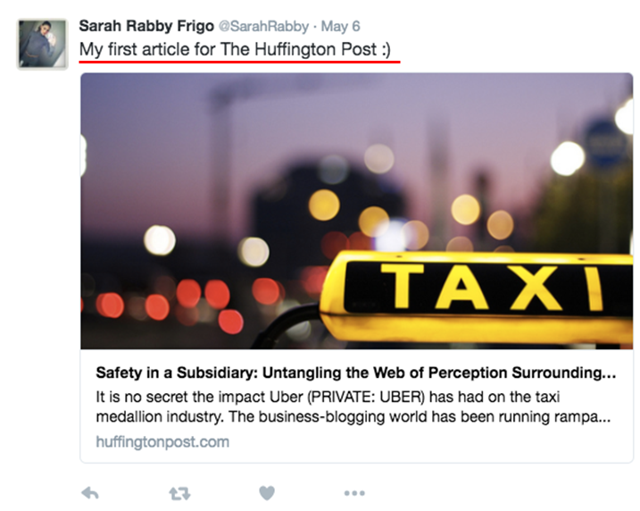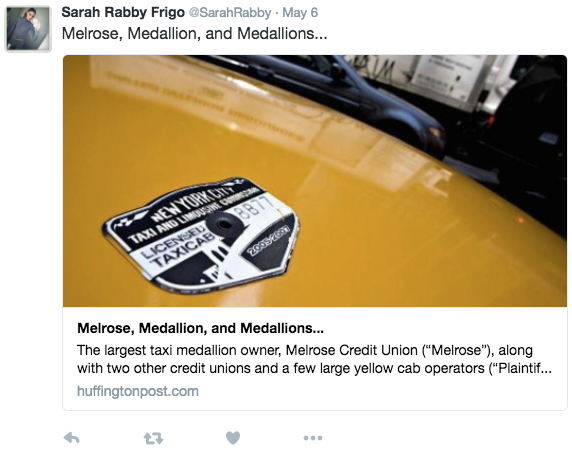 Medallion Financial's official website has an "In the News" section in which the company provides links to various articles and interviews concerning the company (positive stories only, of course!).
Links to the two Jayme Stanley Huffington Post articles were provided on this page. Note that the Huffington Post author's name is not provided (as seems customary with the other articles). They simply refer to this author as "Contributor."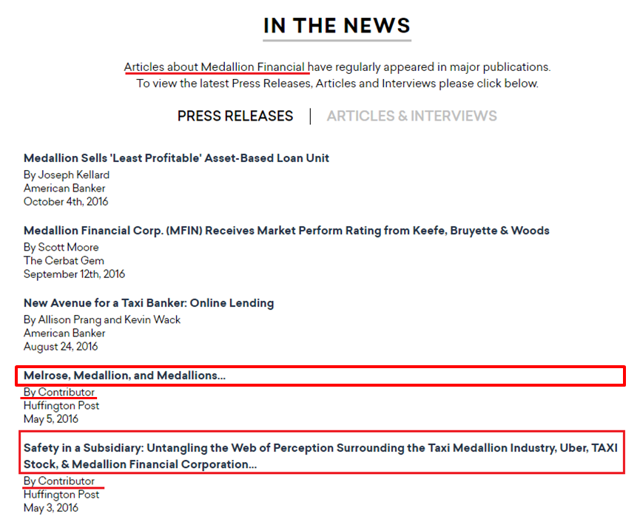 MFIN's website was archived online on November 5, 2016 here. To access the relevant page, click the link, then click "November 5, 2016," scroll down and click "Articles & Interviews" and you will be able to see the two Huffington Post articles submitted "By Contributor" with links provided.
Seeking Alpha and Yahoo Finance
Also in May 2016, a user named stanleyjayme began posting bullish/promotional comments on various MFIN articles on Seeking Alpha. Another user, Jayme, started posting similar (sometimes identical) comments on the MFIN page at Yahoo Finance sometime in July or August 2016.
Every single comment posted by stanleyjayme and Jayme concerns Medallion Financial, the company that hired Sarah Frigo.
Some excerpts of questionable/promotional comments from stanleyjayme and Jayme include:
From Seeking Alpha:
"The stock price is so low this is a great buy"
"This company is a gem and its [sic] only a matter of time until the stock pops"
"The stock will be back up again within a few months, and will be performing great"
"I think it's a great idea to buy right now…"
"When short-sellers are telling you not to buy, it's an obvious signal" – this comment in particular reads like the time Andrew Murstein, President of MFIN, "urged [investors] to ignore short-sellers and other critics forecasting the company's doom"
From Yahoo Finance:
"I don't forsee MFIN having any problems with raising debt capital nor do I see the debt market as necessarily being closed"
"I believe MFIN is as profitable and safe of an investment as it has ever been."
Okay, time for another recap:
Sarah Frigo, a fashion model with no relevant finance experience, has been appointed the head of Investor Relations at MFIN
Sarah Frigo has a direct familial connection to a woman named Jayme Stanley
Sarah Frigo posted highly promotional MFIN articles and comments under the pseudonyms Jayme Stanley (Huffington Post), stanleyjayme (Seeking Alpha) and Jayme (Yahoo Finance)
Medallion Financial's official website linked to Jayme Stanley's Huffington Post articles, but curiously did not include the author's name, as was customary with the other articles on the site
November 2016
On Friday, November 25, 2016, a reporter at a major US newspaper contacted MFIN management for comment on Sarah Frigo's posts and links to her Huffington Post story listed on the "In the News" section of the company's official website.
Over the following days, MFIN attempted to cover its tracks and hide the connection between its Investor Relations department and the articles/comments touting MFIN stock.
MFIN covering its tracks
1. MFIN "In the News" webpage scrubbed – MFIN removed reference to the two Huffington Post articles from its website. An image of MFIN's website was archived on November 5, 2016 and can be accessed here.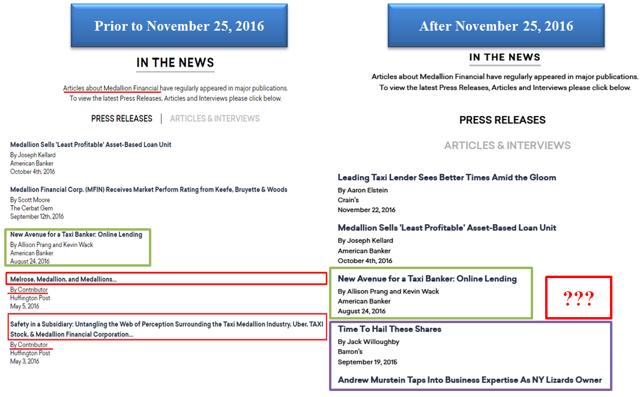 2. Sarah Frigo's LinkedIn scrubbed and hidden – Frigo removed all reference to working at Medallion Financial or contributing to Huffington Post. Frigo also removed her LinkedIn page from Google search (which can be done in the LinkedIn settings). As of this writing, her page is still active and can be accessed here. (Since the Debtwire story, Frigo has reaffirmed her connection to both Medallion Financial and Huffington Post on her LinkedIn page).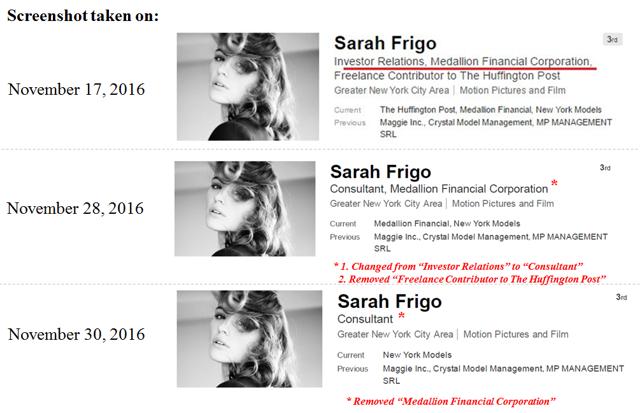 3. Sarah Frigo's Twitter account is set to private

4. Seeking Alpha and Yahoo Finance commenters go dark – There have not been any comments by stanleyjayme (on Seeking Alpha) or Jayme (on Yahoo Finance) since November 16, 2016.
Surprisingly, Frigo's Instagram has not been set to private and, as of this writing, the picture of the Arianna Huffington email is still online.
January 2017
The Debtwire story published January 27, 2017 included a statement from the company:
Ms. Frigo is not currently, nor was she ever, a Medallion employee. She is no longer associated in any way with the Company. We are not aware of anything she said publicly that was not accurate or otherwise reflected in already publicly available information, and any comments she is alleged to have posted under a pseudonym she would have posted unbeknownst to Medallion."
The Company's assertion that it was unaware of Frigo's posting under a pseudonym strains credibility. According to her LinkedIn profile, the majority of Frigo's career prior to her association with Medallion was as a fashion model and evinces no familiarity with either finance or the investor relations function. Nor does she have any post-secondary education or vocational training in finance or securities analysis.
Despite this, in her articles and comments under the Jayme Stanley pseudonym, she fluently navigates the subtleties of unconsolidated bank subsidiaries and how their accounting treatment obscures their profitability to public investors, the ability of bank subsidiaries to "dividend up" capital to the parent entity as a way of maintaining a stable dividend to investors, mezzanine debt investments with equity kickers, the difficulty of completing baby bond offerings in the BDC sector, the impact of stock liquidity on the cost of capital, the manner in which low cost bank deposits and the inherent leverage in bank balance sheets can offset the cost of more expensive unsecured debt issued at the parent level, appropriate earnings multiples for bank equities, the value of an A- credit rating, and finally, and remarkably, the tradeoffs of electing to forego RIC (regulated investment company) status in terms of tax efficiency vs. operation flexibility.
Amassing this depth and range of finance, accounting and investment knowledge would require an MBA and several years of hands-on experience for virtually anyone. Yet, Sarah Frigo, armed only with a high school education and no finance background, seems to have mastered these topics and become fluent with them in 3 months on the job. She is either the world's quickest study, or she had help from others inside the company in composing this story.
Sarah Frigo's LinkedIn page was recently updated, yet again. This time it includes reference to her time spent working at Medallion ("[managing] social media accounts") and writing for the Huffington Post under a contributor account. According to her page, it appears as if she left the company in October 2016; however, based on the comments under the Jayme Stanley pseudonym, it is likely that she worked at Medallion at least through mid-November 2016.
Given that Medallion faces a possible violation of SEC Rule 10b-5, it is likely that her current LinkedIn page was written, or at least reviewed by, an MFIN attorney.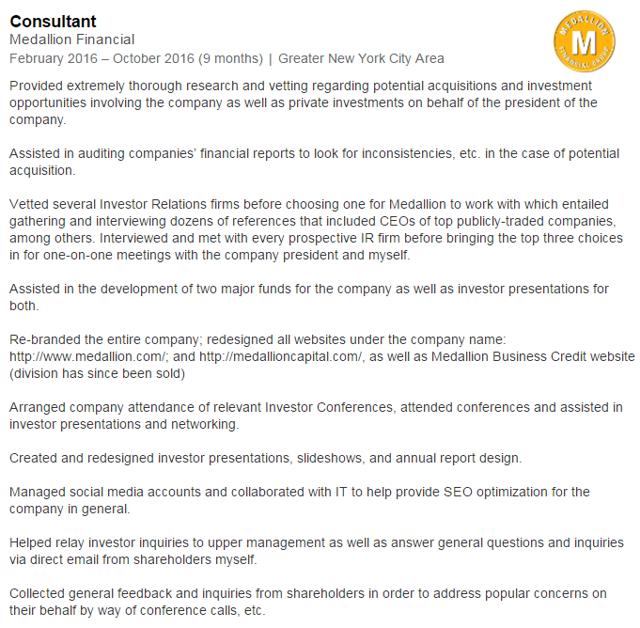 Conclusion
MFIN's recent campaign of misinformation and positive spin is nothing new, but this Investor Relations fiasco now opens the company up to a potential securities fraud violation of SEC Rule 10b-5. Given her inexperience in the field, it is hard to believe that senior management was unaware of and uninvolved in Sarah Frigo's promotional activities online.
Management has consistently presented an overly optimistic view of the company's prospects and has failed to disclose important negative facts in press releases and SEC filings. Just a few, of many, examples follow.
In September 2014, in a New York Times article entitled A Taxi Financing Firm Isn't Switching Lanes, Andrew Murstein, President of Medallion Financial, said the threat that Uber posed to the New York City taxi industry was "overblown." MFIN stock has dropped approximately 82% since this statement, while the bank's nonaccrual medallion loans spiked from zero in Q3 2014 to $47MM in Q3 2016, representing 15% of its medallion loan portfolio.
In September 2015, Murstein was quoted in a Barron's article insisting that the chances of cutting the company's dividend are "slim to none." Less than 12 months later, the dividend was cut by 80%.
In August 2016, speaking at the Keefe, Bruyette & Woods Community Bank Investor Conference, Murstein said MFIN's subsidiary Medallion Bank could be "worth double [MFIN's] total market cap." This pegs the value of the bank (according to Murstein) at approximately $300MM. MFIN's market cap is now under $60MM. According to Medallion Bank's FFIEC Call Reports, in H2 2016, it wrote off $28MM worth of commercial and industrial loans (the bulk of which are medallion loans), representing approximately 9% of total loans. Loss provisions at the bank also skyrocketed from $17MM in 2015 to $69MM for 2016. Does Mr. Murstein still stand by his statement?
In November 2016, Murstein was quoted in a Crain's article saying "the company is doing extremely well." At the time of that statement, the company was in default on a series of loans secured by its Chicago medallions, its bank subsidiary had violated its capital requirement with the FDIC, its Freshstart Ventures subsidiary likely also had a capital deficiency which would later lead to it agreeing to a forced liquidation at the behest of its regulator, the U.S. Small Business Administration, and it was the subject of a lawsuit for nonpayment by the bank that lent against its Chicago medallions. If that is the company doing "extremely well," I would be interested to see what happens when it is performing poorly.
According to Medallion Bank's Q4 2016 FFIEC Call Report released on January 30, 2017 (and Q3 2016 report restated on January 24, 2017), the bank has been in violation of its mandatory 15% leverage ratio (required to maintain FDIC deposit insurance on over $900MM of deposits) for the entire second half of fiscal 2016. The company provided a long-term strategic update on January 31, 2017 stating that their focus will now shift to operating Medallion Bank, but stunningly failed to mention this very important negative fact. Does management think capital deficiency, increasing loss provisions, medallion loan charge-offs and restatement of financials at Medallion Bank is not material enough to disclose to its investors?
The company claims its "strategic shift" reduces its exposure to medallions. This is simply false. The company's exposure to medallion loans has not dropped by a penny as a result of these actions, nor has the company reduced any of the debt incurred to fund the medallion loans. They are now being forced to liquidate the assets of Freshstart Ventures to meet an accelerated debt amortization on its SBA debentures, requiring them to find a buyer in an illiquid market in which not a single lender is increasing exposure to medallions, and for which the best hope is that a vulture investor might make a bid at pennies on the dollar.
Now Murstein says that they are "well positioned in 2017 and confident in [their] future."
It's time for investors to stop taking management's word at face value and start asking some tough questions.
Disclosure: I am/we are short MFIN.
I wrote this article myself, and it expresses my own opinions. I am not receiving compensation for it. I have no business relationship with any company whose stock is mentioned in this article.
Editor's Note: This article covers one or more stocks trading at less than $1 per share and/or with less than a $100 million market cap. Please be aware of the risks associated with these stocks.
About this article:
Expand