Seeking Alpha author "Long-Short Value" is an expert on the short side.
He has 732 followers.
His success rates vs. the S&P 500 for his High Conviction Shorts have been: 75% in 2014, 100% in 2015, and 80% in 2016.
On January 4, 2017, he named Medallion Financial (NASDAQ:MFIN) first on the list of his five Top Picks for High Conviction Shorts.
Long-Short Value's high conviction on MFIN is clear.
I see no way that the company is not bankrupt and the equity worthless a year from now.
Medallion Financial (MFIN)
Medallion Financial is a specialty finance company that specializes in taxi medallion lending and other high risk-return loan categories. The company structure is very complicated and includes subsidiaries that consist of LLCs, Small Business Investment Companies (SBICs), Regulated Investment Companies (RICs), a Utah-based FDIC regulated bank, an LLC that owns a majority stake in a professional Lacrosse Team, an LCC that engages in art dealing, and an LLC that owns a minority stake in a racing team. Overall, it's the type of business that no one should ever want to own. The company is structured in a way that makes accounting difficult and creates opportunities to manipulate the parent company's financials. Great Quarter (@GreatQuarter on Twitter) recently posted this summary of the inter-relationships between the entities that highlights my point.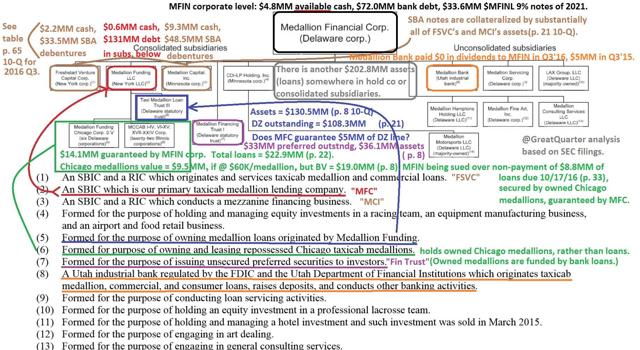 Source: Twitter: @greatquarter
The crux of Medallion's problem is that the entrance of Uber (Private:UBER) into the market has all but destroyed the value of taxi medallions. Medallion Financial has an enormous level of exposure to taxi medallions, both through medallion loans and ownership of medallions. The company has massively under-provisioned for losses and holds these taxi medallions on its books at massive premiums to the underlying value measured by the recent transactions in the marketplace. Several recent articles highlight the many problems that Medallion faces, I highly recommend that you read both by Permabear Part1 and Part2. Here is a quick list of the issues/reasons that make Medallion a good short and a future bankruptcy.
At least one of Medallion subsidiaries is being sued (in this case by Metropolitan Bank) for defaulting on its loan. It is possible that two other banks (New York Commercial Bank and Valley National Bank) are also suing Medallion for loans associated with Chicago Medallions. All of this debt in question is guaranteed by the parent corporation Medallion Financial.
It is running dangerously low on cash, estimated by Great Quarter to be $4.8m at a corporate level as of the end of Q3 (see above graphic). I believe the actual current cash balance available may be much lower, as highlighted by the August 8-K, in which it revised its loan agreement with Sterling Bank to offer to sell Artwork and pay them cash. I can't think of another reason why you would sell artwork in likely a distressed sale to raise cash unless you are very low on cash.
Recent revolver with DZ was extended but closed to future withdrawals. Suggesting DZ was willing to give it more time to try and turn things around but not lend it any more money.
On December 16th, the CFO recently sold ~1/3 of his MFIN Stock.
Its Chicago and New York Taxi Medallions are held at massive premiums to transactions in the marketplace and its competitors like ConnectOne (NASDAQ:CNOB).
Medallion's Loan 90-day delinquency rate jumped to 19.4% in Q3 compared to 13.5% in Q2.
I see no way that the company is not bankrupt and the equity worthless a year from now.
Market Price 12/31/16: $3.02
Intrinsic Value (based on balance sheet sum of parts): $0
Market Price/Intrinsic Value Ratio: NA